Posted by Susan T. on Mar 6th 2021
Why buy 2 Person Mobility Scooters?
Mobility scooters usually are designed with a single seat for only one person. Thanks to developments in technology many companies are manufacturing and competing to creating the most convenient and versatile mobility aids such as scooters, electric wheelchairs, and other mobility aids.
This means, people with mobility challenges are no longer confined to a sedentary lifestyle. They can now enjoy going places and not worry about being stuck at home alone. So, imagine how much fun it can be to not only be able to get around, but to get around with someone else. That is where 2 person mobility scooters come in.
So, why buy a mobility scooter for 2 people?
One of the main benefits is that you can take 2 people, but they are also much more heavy-duty than a standard mobility scooter. This means the the scooter is bigger, stronger, sturdier and more durable. A few primary benefits of a 2 person scooter would include:
Stronger Set & Frame
A high-powered wattage Motor
Larger more sturdy Tires
Stronger wheel Suspension
Many 2 person scooters can even sustain light off-road adventures and feature longer ranges and faster speeds. They can handle the weight of two person up to 500 lbs and some even 600 lbs. No matter how much weight capacity you need, we are sure there is one to suit your needs.
They are extremely stable and well-built, so there is no need to worry about their performance by adding the extra weight. If you know someone who rides a single-user mobility scooter, you might have noticed that even though they are along, they are still riding by themselves. Getting a 2 person scooter is a thoughtful way of showing your loved one that you want to be a good companion to them.
Our Top 5 Picks of 2-Person Electric Mobility Scooters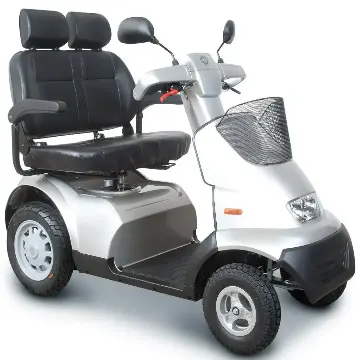 THE AFIKIM Afiscooter S4 is an innovative scooter, it is the winner of the prestigous Red Dot Design Award. It offers an impressive 28-mile range, sleek ergonomic design and many luxurious features.
The orthopedic seat, full-suspension and adjustable tiller will make sure you are comfortable while driving this impressive scooter. The sturdy frame is shock absorbing, the 4-wheels offer stability and the 5-inch ground clearance help you maneuver through rough terrain. Add a full canopy for protection from the sun and rain sides to protect you from the elements and you are ready for any adventure.
The Afiscooter S4 is well balanced and stable enough to carry two passengers with comfort, and the environmentally friendly long range battery will make you feel confident that you are riding a top notch scooter.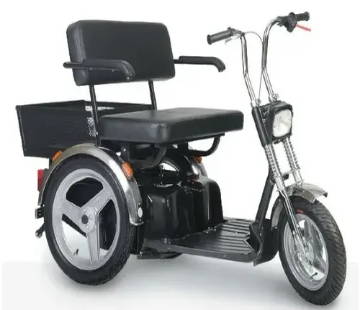 The AFIKIM Afiscooter SE is another great 2 person mobility scooter, featuring a powerful motor, 28-mile driving range and motorcycle type design that is sure to appeal to your adventurous side. It is a great choice for almost any terrain with its big wheels, rugged frame and orthopedic seat.
The Afiscooter SE is an icon in the world of personal electric mobility, with 40 years of experience you can count on. A balance of simplicity, reliability and classic design this scooter features a reliable electronic command system. It is fully electric and provides silent, environmentally friendly and is highly efficient.
With it's strong steel chassis and 3-wheel design, this scooter has a great turning radius and you can count on this tried and true design.
3. EW-66 Recreational Scooter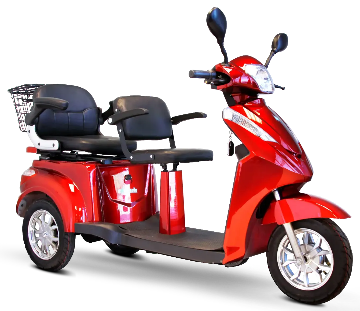 The EW-66 2 person recreational scooter from Ewheels offers a weight capacity of 600lbs and has a powerful 700-watt motor and can easily carry two passengers while reaching a top speed of 15 mph. The long range battery can go up to an impressive 43 miles on a charge, and features a speed control dial to help provide safe driving in crowded areas.
The EW-66 comes with some impressive features including and anti-theft alarm, electromagnetic brakes, LED headlight, rear view mirrors, a brake light and parking light. It has plenty of storage with a rear basket and backseat storage compartment.
This environmentally friendly two person scooter is relatively fast compared to other scooters due to its size and weight. That and the soft cushion seats will make your adventures speedy and comfortable.
4. EW-11 Euro Sport Scooter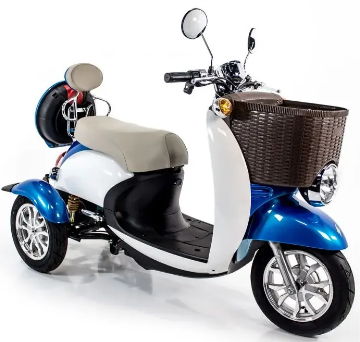 The sporty EW-11 Euro style sport scooter from Ewheels has and impressive top speed of 18 mph and a 40-mile range on a single charge. The fit and finish on this scooter has the look and feel of a motorcycle, with a 2 person saddle seat and rear passenger foot pegs. The powerful 500-watt motor means you will enjoy the high quality performance of this scooter.
The EW-11 features a removable rear storage case, large front basket, cup holders, rear view mirrors and anti-theft system. It has a complete lighting package with headlight, turn signals and brake lights.
Its front fork suspension and heavy duty rear shocks make for a smooth ride on the road. You will love the look and feel of this super sporty scooter, it is fun to ride and will get you around in style.
5. Pushpak 3000 Electric Trike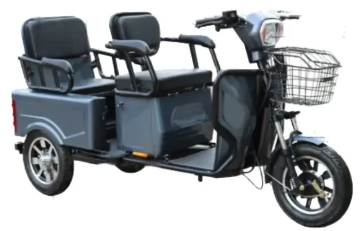 The Pushpak Motors 3000 Electric Trike is a favorite among riders, with a top speed of 18 mph and an impressive range of up to 50-miles, it is perfect for you and your family.
The Pushpak 3000 comes with LCD Display, Turn Signals, Horn, Headlight, Taillights, Rear Storage Casket and Front Basket. It has a maximum load of 500 lbs and boasts a 650-watt brushless motor.
Pushpak Motors is the premier dealer in micro-mobility, these environmentally friendly electric trikes are not only good for the environment, but save money as well. No drivers license or insurance required. They are ADA compliant and perfect for riders of all ages and abilities.
Buying a 2 person mobility scooter is great for people who want to ride together. They are well built and come in a variety of styles to fit most peoples tastes. You will enjoy both the amazing performance and durability, as well as the pleasure of taking along someone you care about.
We are an authorized dealer for some of the best 2 person mobility scooters on the market.
Why buy from an authorized dealer?
All of our scooters ship directly form the brand or manufacturer and are covered by the manufacturers warranty. Best of all, these companies are US based and you will get your scooter in a timely manner and will be able to get answers when you need them.
At Mobility Masters, we strive to provide you the best customer service. We offer free shipping on scooters, and do not charge sales tax in most states. You always know that if you buy from us you will get the price possible, that is our promise.
If you have any questions or need help deciding on which scooter is right for you, please feel free to call us at 800-936-7006.