Product Research
The information below should help answer some of your questions, feel free to call us if you still cannot decide or have any other questions.
We are available Tuesday - Friday 10am - 5pm PST and Saturday 10am - 2pm PST
---
Scooters? 3-wheel, 4-wheel, or Heavy duty? - Click Here To Learn More.
Mobility Scooters -
3-Wheel, 4-Wheel, Folding, Heavy Duty & Recreational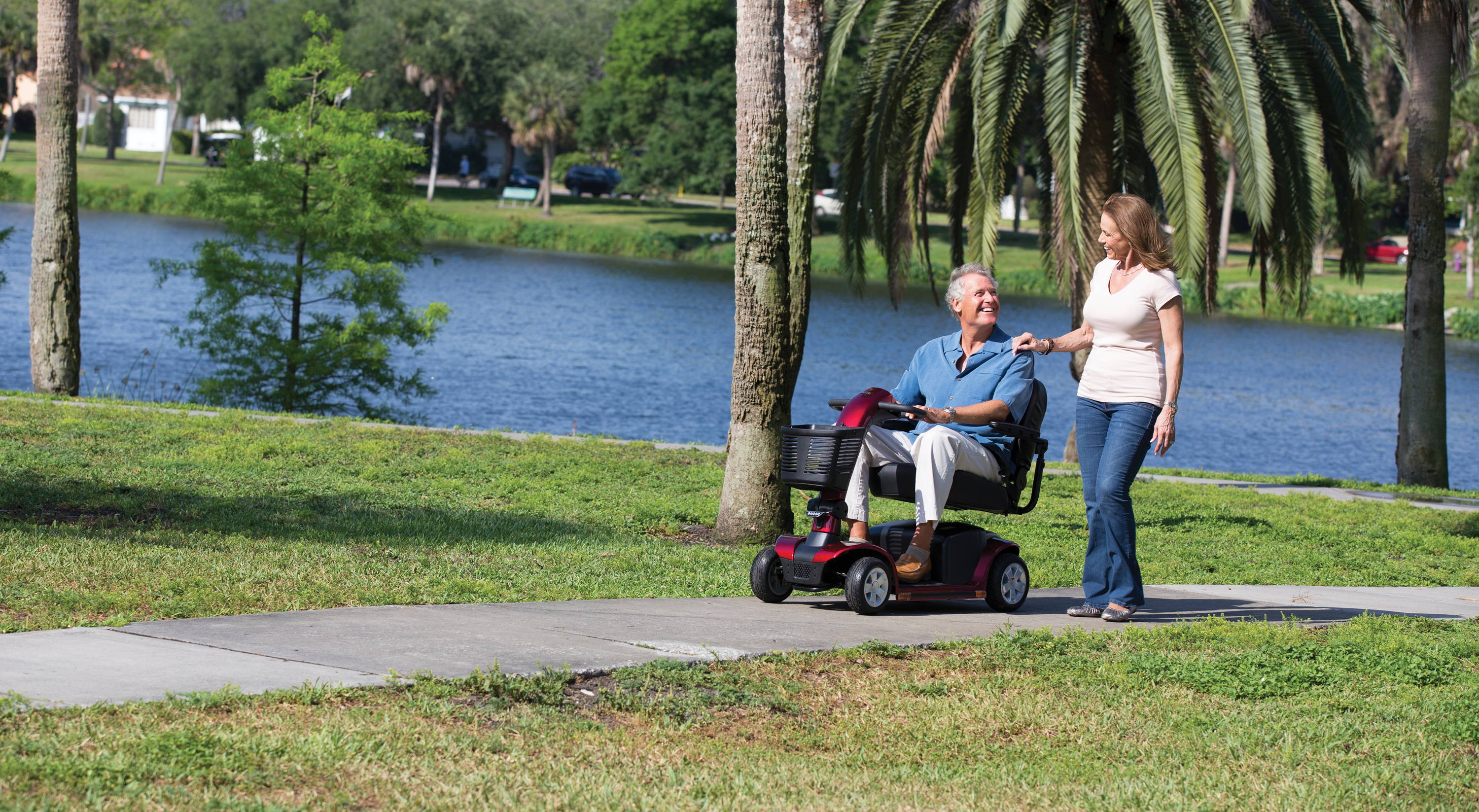 3-Wheel Scooters
If your mobility needs are primarily indoors, a 3-Wheel Scooter may be for you. 3-Wheel Scooters are lightweight and easy to maneuver, with a tighter turning radius than a 4-wheel scooter. We carry Golden Technologies, Pride, and Drive 3-Wheel Scooters to choose from.
4-Wheel Scooters
Although 4-Wheel Scooters are slightly heavier than 3-Wheel Scooters, they offer more stability. They handle well outdoors on rougher terrain. Our selection includes 4-Wheel Scooters from Golden Technologies, Pride, E-Wheels and Drive.
Heavy Duty Scooters
Heavy Duty scooters are meant to provide ultimate comfort and high performance on the go. At Mobility Masters, you can find the latest and greatest Heavy Duty Scooters the market has to offer, like Pride's latest development, the Raptor 3-Wheel Mobility Scooter. Find top brands, such as Pride, Drive, and Golden Technologies at Mobility Masters.
E-Wheels Recreational Scooters
E-Wheel scooters are electric-powered and available in 3 wheel or 4 wheel models, and are heavy duty and folding. These are great for long days, as most models can travel up to 10 miles without a re-charge. At Mobility Masters in Santa Rosa, we stay up-to-date on the latest E-Wheel Products, like the EW-77 Edge . We're the only Northern California dealer to carry E-Wheel Scooters, so stop in to see our full selection today!
Contact us if you need more information ...
Folding Scooters? Are they right for me? - Click Here To Learn More.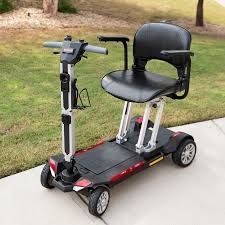 Our lightweight folding scooters can support a load of up to 300 pounds. Here are some features of our deluxe folding scooters:
Made from high-quality materials, such as carbon fiber butadiene, airplane-grade aluminum, and styrene (whatever the snap n go are featuring)
Dynamic driving controls give you full control over speed, acceleration, and braking
Reliable lithium magnesium cobalt battery
Three driving modes
Standard Folding Scooters
Features custom parts. High-quality components minimize weight and maximize performance. Here are some features of these products:
Front disc single brake assures better control
Real-time battery display
Sturdy, yet lightweight aluminum frame between 32 and 56 pounds
Estimated range of 16-30 miles
Can hold up to 285 lbs
Stand-N-Ride Folding Scooters
Designed for warehouse applications. Can be used in enclosed parking garages, shopping complexes, and school/college campuses
Maximum weight capacity – 300 lbs
Lightweight (weighs just 72 lbs)
Range – 20 miles
Maximum speed – 15mph
Lift Chairs? which one is right for me?- Click Here To Learn More.
Power Lift Chairs - 2-Position, 3-Position, Infinite Position & Space Saver
What to think about when choosing a lift chair?
When getting up from a chair becomes difficult, you may consider a lift chair and are not certain about which one will work best for you. There are a few important factors to consider when purchasing a lift chair. Do you sweat a lot, or have incontinence? Is your living space limited? Here is what to consider ...
NUMBER OF POSITIONS: The most important feature to consider. When looking at chairs, you'll see some are '2 Position', some '3 Position' and some 'Infinite Positions'. Infinite position models have two motors to let the footrest move independent of the back portion. Those who want to sit upright, but also have the footrest up, will need this type of chair. Both '2 Position' and '3 Position' chairs require the backrest to recline to have the footrest slide out because they only have a single motor. '3 Position' chairs differ from '2 Position' types in that they allow full recline; 2 positions only recline to 45 degrees.
FIT (SIZE OF CHAIR): You want the chair to fit your body size. This is very important because the larger the chair, the deeper the seat cushion. Choose a chair that's too big and your legs may not touch the floor when sitting straight up. Choose a model that's too small and your lower back area might not respond well.
TYPE OF COVERING (FABRIC): From standard fabrics, to performance fabrics (waterproof), to breathable ultra-leather (man-made leather) there is a fabric to fit your need. Understanding your choices will help you make the right decision.
LIVING AREA: Do you have a fairly tight area in your living room to place the chair? Does it need to be against a wall? Models are available that hug the wall for tighter spaces.
UPGRADED FEATURES: People with aches and pains might benefit from a Heat & Massage upgrade, this feature can be built into most lift chairs and can offer comfort and pain relief for some people.
Contact us if you need more information ...
Home Access? Stair Lift, Ramp or Vertical home lift?- Click Here To Learn More.
Home Access - Stair Lifts, Vertical Platform Lifts and Ramps
Making your home safe & accessible is our number one priority!
At Mobility Masters, it's our goal to make all points in your home as accessible as ever even with mobility limitations. Through the use of stair lifts, ramps, or anything in between, we'll help you discover the correct mobility aids for complete independence at home. Various home access equipment and brands we provide include Pride, Bruno Independent Living Aids, EZ Access, Harmar Mobility, and more. If you are in the Santa Rosa area we also provide installation by licensed contractors. We'll be happy to assess your home inside and out and come up with a solution for you to be able to stay in your home and enjoy it to it's fullest.
Stair Lifts
Do you have trouble going up and down your stairs? We can help. Let us pair you with the right stair lift for your staircase, whether your staircase is straight, curved, or outdoor. We carry Stair Lifts from Bruno Independent Living Aids and Harmar, call us today for more information.
Vertical Platform Lifts
Lifts can be an excellent solution when a ramp doesn't meet certain safety standards or your needs. There is added safety when you choose a vertical lift when going up multiple stories and can be installed both inside and outside. We carry Vertical Platform Lifts from Mac's Lifts, EZ Access and Harmar. We can help you find the one that will best fit your job.
Ramps
Years of experience and expertise allows us to develop the right ramp for your or your loved one's needs. Our licensed contractors can make sure all safety standards are met for complete safety and convenience for years to come. We carry Ramps from EZ Access and Prairie View Industries, from threshold, portable to modular there is a ramp to do what you need.
Contact us if you need more information ...
Power Wheelchairs? What are the different kinds?- Click Here To Learn More.
Power Wheelchairs - Portable, Full-Size and Heavy Duty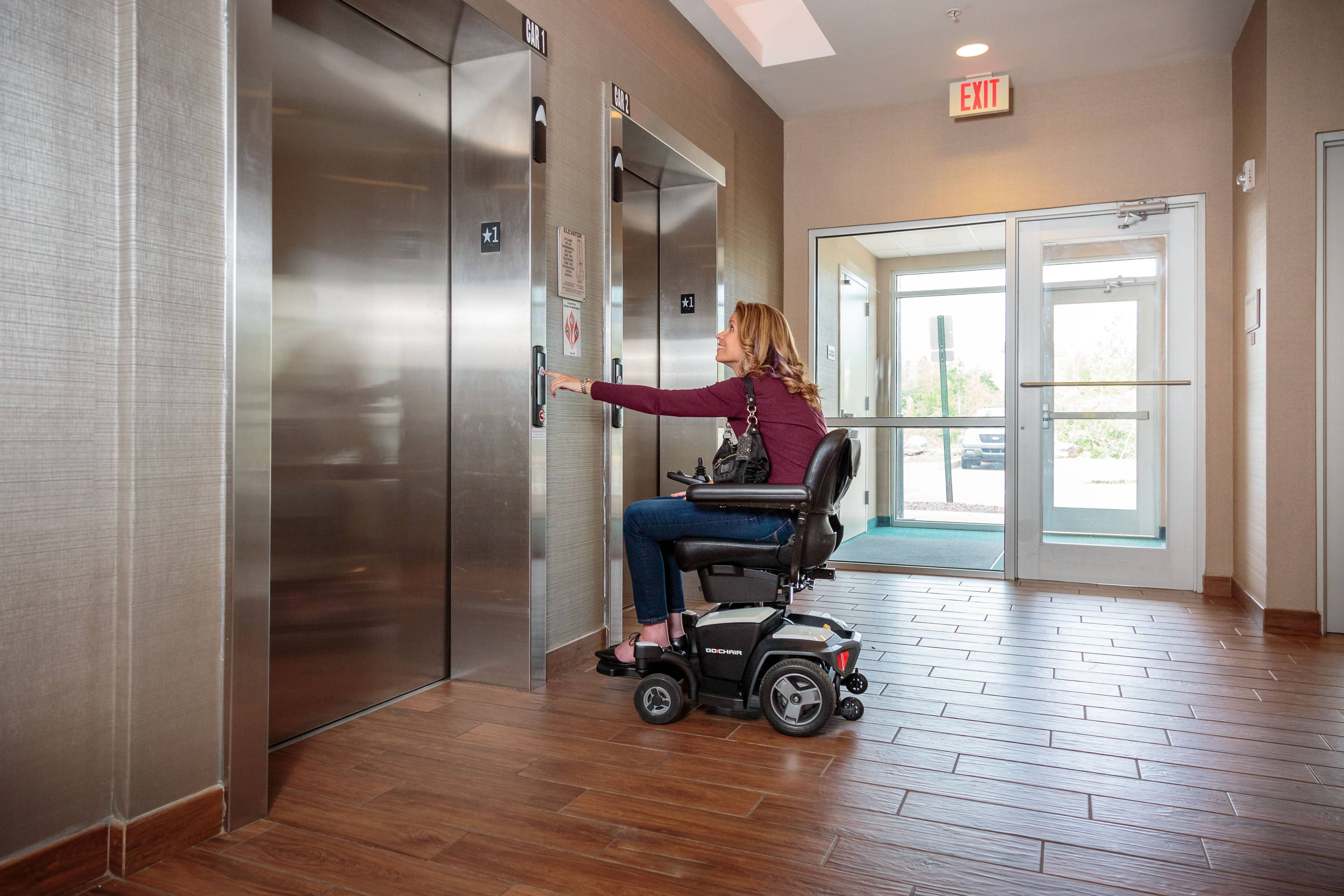 Selecting Power Wheelchairs
As we age, many people lose the stamina and physical ability to propel themselves in a traditional manual wheelchair. While several solutions to this problem exist, many of them prove to be problematic – scooters, for example, are often difficult to maneuver and require additional space to use effectively. With a power wheelchair, users don't have to worry about these added concerns. Our wide variety of powered wheelchairs feature varying options for mechanics, safety and accessibility to fit every person and lifestyle. Here is a brief overview of the different types of power wheelchairs that are available
Portable Power Wheelchairs
Portable travel power wheelchairs are designed not only for portability but also work well in compact or crowded spaces such as apartments, stores, cruise ships or malls. Most of the travel portable models are disassembled by removing the seat, battery pack and base. Most components are relatively light but there may be some lifting involved in moving the heaviest components.
Folding power wheelchairs combine portability with full-time use. They have adaptable seating that accepts pressure-management cushions, full-coverage armrests and highly supportive backrest options. These models easily fit into automobile trunks or cargo areas for easy transport.
Full Size Power Wheelchairs
Full size power wheelchairs are built for every day use and abuse! Sturdy and durable, they are highly maneuverable due to their joystick controllers and small base. There are several drive-types available to suit different needs. Center-wheel drive power wheelchairs have a tight turning radius and are perfect for moving around indoors in tight or confined space. Front-wheel drive and rear-wheel drive systems have benefits for outdoor use, and climbing hills.
Heavy Duty Electric Wheelchairs
Heavy Duty power wheelchairs are designed for larger users (ranging from 300 lbs. to 650 lbs.), heavy-duty electric wheelchairs are available in a variety of styles, including folding and center-wheel drive.
Contact us if you need more information ...
Vehicle Lifts? How do I choose?- Click Here To Learn More.
Vehicle Lifts for Mobility Equipment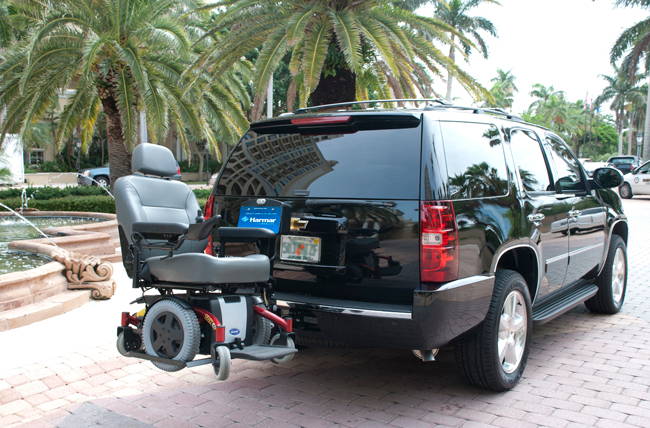 Choosing the right lift
You have places to be. Don't let your mobility challenges keep you from going where you want, when you want. We're proud to offer a complete line of vehicle equipment lifts to help get you to your destination quickly and easily. Whether you're looking to accommodate your manual wheelchair or large powered wheelchair, our team is here to match you with the right lift today!
We carry a variety of equipment lifts from top brands, including Harmar Mobility, Bruno, EZ Carrier and Pride. Check out some of our most popular models, including the Bruno Out-Sider Vehicle Lift, Pride Commander Vehicle Lift, and Harmar's Interior and Exterior Vehicle Lifts.
Lifts for Scooters and Power Wheelchairs
In order to determine the correct lift for combination of mobility equipment and vehicle you will need to contact us to do a compatibility check for you.
Lifts for Manual Wheelchairs
We carry the Harmar lifts for Manual Wheelchairs which install in the hitch at the rear of the vehicle and come in manual or power versions.
Contact us if you need more information ...
Beds? Full-Electric, Semi-Electric or Adjustable? - Click Here to Learn More.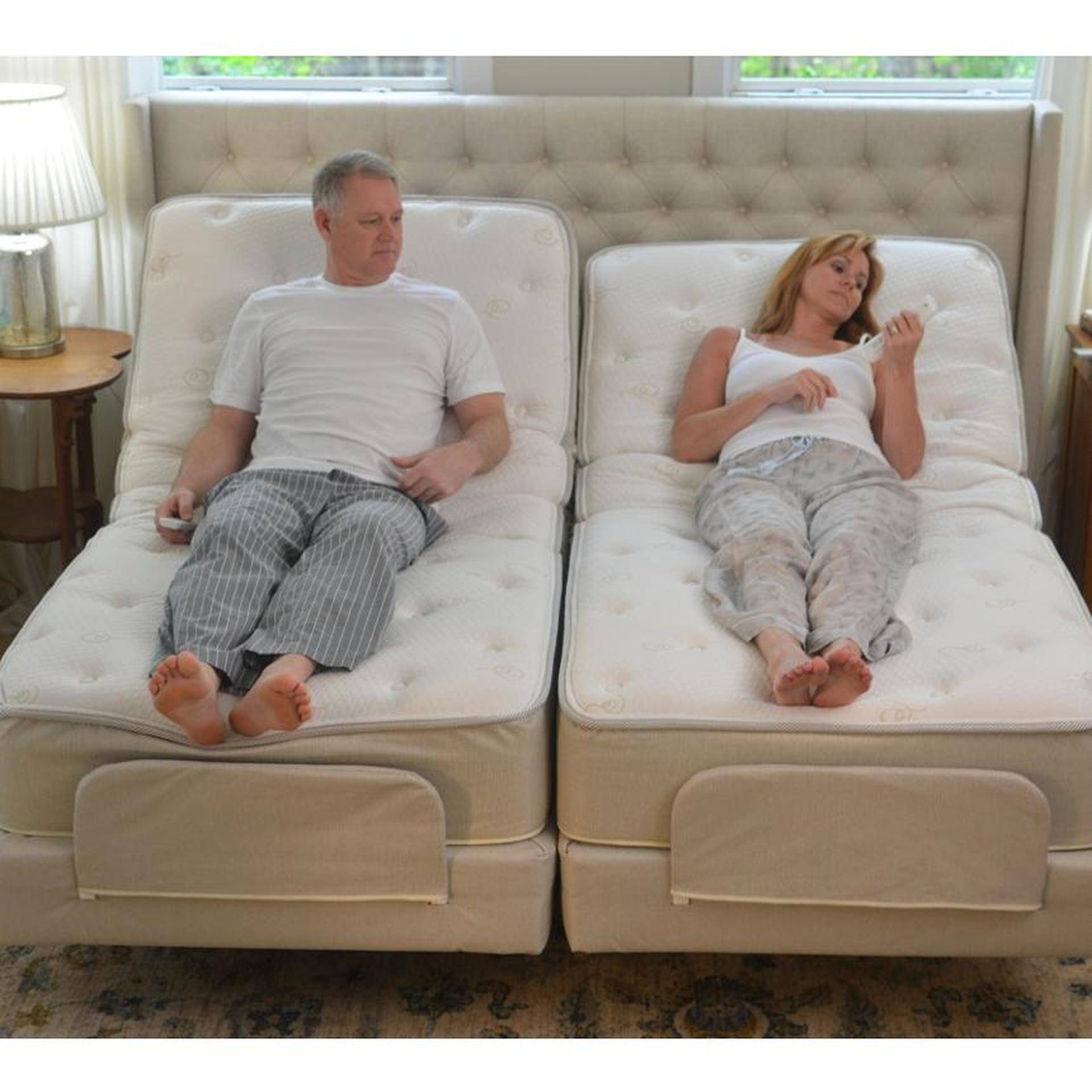 Ultra-light Beds
Our ultra-light beds can support up to 450 pounds. An ultra-light bed comes with:
A transition box that allows you to change the rotation of the shaft
A taller than normal headboard to better fit home decor
Break and scratch resistant wood grain panels
A lightweight foot section (weighs 50 percent less than a traditional foot section)
Color-coded springs
A self-contained motor designed to reduce weight and noise
A new and improved hand pendant with user-friendly controls
Every bed features channel frame construction for superior strength. Our beds and their components, such as side rails and mattresses, are safety-tested by SGS.
Electric Beds
Our electric beds are equipped with sturdy frames that can hold up to 450 pounds. Some noticeable features of our electric beds are:
Lightweight (total assembled weight 178 pounds)
Efficient DC motor for hassle-free height adjustment
Welded motor guard for enhanced protection against damage (during transit)
High-impact bed ends
4-inch extension kit
Adjustable Beds
Some features of our Premier full adjustable beds:
Customizable – can be designed to fit your needs
One-touch wireless or wired controls ensure convenience
Can be attached to existing headboards
Foundation profile with heavy-duty, padded base
Locking casters prevent unwanted bed movements
Special (Advantech) material designed to last long (immune to warping). Does not break or squeak
Three construction patterns (soft, medium, firm) to choose from