Posted by Susan T. on Dec 15th 2020
If you have been considering a folding mobility scooter, there are a lot of reasons why they are so popular. For many, the pros tend to outweigh the cons, especially when you select one of the best folding mobility scooters on the market. Here are some of the best aspects that come with choosing a foldable option over a standard scooter.
Benefits of Folding Scooters
Portability: Unlike traditional scooters, a foldable scooter is much easier to transport. Instead of having to disassemble your scooter, you can fold it up quickly and easily in just a few minutes. Since you have to be able to lift these folding designs more easily, they often weigh significantly less than standard mobility scooters. Most of our folding options come in under 70 lbs, with some of our ultra-lightweight options weighing as little as 33 lbs — battery included. This means they are easy to fit in the trunk of a standard car, perfect for any adventure!

Maneuverability: Folding scooters tend to boast a sleeker design and smaller footprint, making them easier to maneuver. This is great for tighter indoor spaces, including homes and grocery stores. You`ll be able to navigate through smaller rooms with ease.

Ease of storage: With a smaller design it means they are super easy to store. Generally, a folding scooter will fold up to be only a few feet tall and wide, meaning it can easily fit into smaller storage closets or in any corner of your home.
Other Things to Consider
While we think foldable scooters are a great option for many who are looking for something new, there are some other considerations to make when evaluating this important purchase.
While folding mobility scooters tend to be more lightweight, flexible, and easy to store, they are often still too heavy for a person with a disability to lift. It is something to keep in mind and may mean that you require extra assistance when utilizing your scooter.
If you are looking for recommendations, these are our top 10 most popular folding scooters and some details about what makes them so great.
10 Best Folding Mobility Scooters
Buzzaround CarryOn by Golden Technologies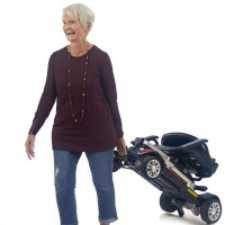 What is Unique About It: The Buzzaround Carry-On features an infinite adjustable tiller, full front and rear lighting package, lithium-ion battery pack with a range of 18 miles on a single charge, and 300 lbs weight capacity. The heaviest piece is 47.5 lbs. (without seat and batteries) and the height when folded is only 12", which allows the Carry-On to comfortably slide under most beds or car seats for easy storage. It disassembles easily into two pieces and is designed to store in the smallest compartments. It features a built in USB port in case you need to charge an electronic device while you're on the go.
Why You Will Like It: The Buzzaround Carry-On offers a unique fold flat design. Traditional folding scooters typically condense into a center folded, compact square that mimics the size of a piece of luggage. This scooter was designed differently. It is the only folding scooter that offers a fold flat design with an impressive folded height of just 12". This innovative design makes it the perfect scooter to take with you on a cruise ship or family vacation because it was built to seamlessly slide under most beds for convenient storage.
iRide by Pride Mobility Products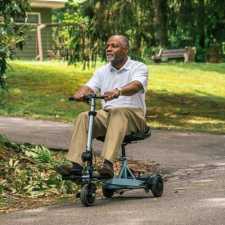 What is Unique About It: The minimal frame doesn't mean you can't adjust the iRide to fit your body. The iRide has an adjustable seat height that ranges from 13" to 15". The foldable tiller has an adjustment knob at the base to move the steering handles forward and back according to your comfort preference. Acceleration is controlled with a simple twist throttle on the right handle. While the iRide cannot go backwards, its 33.5" turning radius allows navigation of even the tightest of spaces. There is also a manual hand brake. A supplemental foot brake can be used to stop the scooter in addition to the hand brake.
Why You Will Like It: The iRide really addresses the needs of the scooter user who is looking for minimal weight and occupying the least amount of space. The iRide isn't just all about light weights and compact size. A digital LCD display between the handles shows your charge level. The frame is available in four attractive colors – Lime, Mango, Arctic Ice, and Blackberry. The iRide is safe for air travel as it does have an airline-safe lithium-ion battery. Please do contact your airline prior to travel to ensure they permit lithium-ion batteries.
SnapNgo by Glion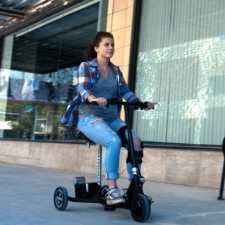 What Makes it Unique: The base SNAPnGO weighs only 31 pounds — about the same as a packed suitcase — and folds easily to fit in your back seat or trunk. To set it up, step on the foot pedal to raise the t-bar and snap it into running position, insert the seat post to attach the seat. You're ready to go!
Why You Will Like It: Highly maneuverable and easy to drive, you simply press the right thumb control to go forward, the left thumb control for reverse and squeeze the left brake lever to stop. In addition, the release of the throttle engages an electronic motor brake for smooth stopping and precision control. The mechanical rear brakes will ensure additional stopping power when needed. When darkness falls, front and rear LED lights help keep you safe. It has three speed settings to accommodate various environments and has a rider weight capacity of up to 300 pounds.
EW07 Electric Foldable Scooter by EWheels

What Makes it Unique: The EW-07 is a powerful scooter that can reach a top speed of 12 mph, travel 17 miles on a single charge and carry a rider up to 325 lbs. The best part about this powerful scooter is that it's lightweight and portable which means taking it anywhere is as easy as it is to fold... and when we say anywhere we mean trunks, SUVs and AIRPLANES. YES, the EW-07 is airline approved!
Why You Will Like It: This scooter has everything you will need for a comfortable ride, including a large padded seat with a backrest, cruise control, 3-speed settings, a forward/reverse switch along with front and rear disc brakes that make stopping easier on wet surfaces and declines.
Atom Trike Deluxe by Atom Trike

What Makes it Unique: The Atom Trike is manufactured from a combination of airplane-grade aluminum, and carbon fiber, acrylonitrile, butadiene, styrene and Leather. All components have been carefully designed to minimize weight and maximize performance. These components give the Atom Trike the quality needed to do the best job possible. All parts are custom and make this trike unique with the ability to be customized easily for each rider to assure the most comfortable ride available in the market today. The driving controls give you the option to regulate your speed and the way that it accelerates and brakes.
Why You Will Like It: The Atom Trikes is very stable and able to accommodate all the rider's weight in the middle, giving stability and perfect balance. The Trike, uses the most advanced and reliable lithium magnesium cobalt battery to give the user maximum durability and a long lasting driving experience.
SmartScoot by SmartScoot
What Makes it Unique: Front-wheel drive and variable top speed controls give the SmartScoot™ foldable mobility scooter advantages on rough terrain or when climbing hills. Lithium-ion batteries have better battery life over time, giving the SmartScoot™ folding mobility scooter range and longevity. The SmartScoot is designed to comply with FAA regulations for traveling with a mobility scooter with lithium-ion batteries. It has a removable luggage bar, which makes it perfect for going through the airport.
Why You Will Like It: It's perfect for the elderly, the disabled, or anyone who leads an active lifestyle but needs help getting around. This lightweight, folding mobility scooter are easy to use, transport, and store. Weighing only 40 pounds when fully assembled, SmartScoot™ mobility scooters can break down into smaller, ultra-lightweight parts. Because of this, it comfortably fits into almost any vehicle's trunk!
Luggie Elite by Freerider USA

What Makes it Unique: The Elite is just as portable as the Standard Luggie but it goes faster, goes farther and can hold more. With a weight capacity of 320 pounds and a travel distance of 14.5 miles there is no other lightweight portable folding scooter on the market that can go farther or hold more. What's even better is they did all this without increasing the weight.
Why You Will Like It: You can slide the Luggie Elite in and out of your car making it by far the easiest scooter on the market to take with you in your car, on a plane or anywhere you need to go. The Luggie Elite has all the great features that make theLuggie the best folding scooter on the market. It has a universal charger and is TSA and FDA approved, and now has extended handlebars for better ergonomics.
ZooMe Auto Flex by Drive Medical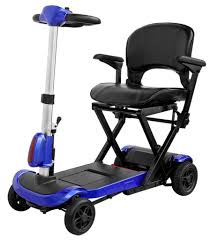 What Makes it Unique: The ZooMe Auto-Flex will fold and unfold on its own in 15 seconds or less with the use of a wireless key fob. The ZooMe's four wheels feature low-maintenance flat free, non-marking tires. With four wheels, the ZooMe is stable on a variety of terrains, but it also features rear anti-tip wheels for extra security. Folded, the ZooMe takes up just 17"x17"x23.5" of space, which allows it to be packed for almost any occasion.
Why You Will Like It: The auto-folding and unfolding feature is unique to the Drive folding scooter line up. While most foldable travel scooters have standard straight-handled tillers, the ZooMe Auto-Flex features a delta tiller making it easy to steer as well as ideal for users with limited dexterity. The tiller is height and angle adjustable for ideal positioning of the scooter's controls, and the armrests are adjustable with padded tops for comfortable cruising.
Yoga by Merits USA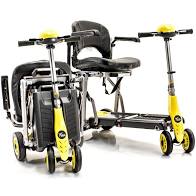 What Makes it Unique: The Yoga has a unique, patented twin-front wheel feature with spring suspension which offers increased stability when making sharp turns. This scooter also has a height and angle adjustable tiller so you're sure to find the most ideal driving position for you. The Yoga also features a lithium-ion battery, which is lighter-weight and more compact than a standard lead acid or gel battery. Another benefit to a lithium-ion battery is that they have a faster charge time, meaning you can hit the pavement sooner! The charging port for the Yoga is conveniently located on the rear fender of the unit.
Why You Will Like It: Because the Yoga folding scooter is so compact and lightweight, it's perfect for an on-the-go lifestyle. This scooter quickly and easily folds down by simply releasing a few levers. When fully pushed together, the unit automatically locks into place for secure transport. When the Yoga is folded down, you can either store it in its most compact state or raise the tiller to push or pull the Yoga like luggage. The Yoga weighs just 56.7 lbs. including the battery, so this scooter is ideal for travel and making the transition from indoor to outdoor use.
Remo Auto Fold Scooter by EWheels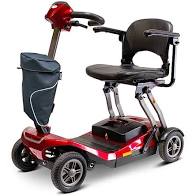 What Makes it Unique: Perhaps the most unique feature the Remo Auto-Flex offers is its anti-theft locking system. It is the only folding scooter that allows users to manually lock/unlock the scooter with a 4-digit security code. If you feel the need to momentarily step away from your Remo scooter, enter your personalized code on the dashboard to lock your scooter until you return. The security lock prevents your scooter from folding and denies access to dashboard controls until you return. It comes with a remote that automatically folds the scooter and an electronic key fob that powers the scooter on or off.
Why You Will Like It: The Remo It offers a lightweight frame weighing 59 pounds and capable of holding up to 300 lbs. The battery pack weighs 6 pounds and can be easily removed if needed. A charging port can be found on the left side of the tiller for accessible charging. Electromagnetic brakes and rear brake lights come standard for additional safety. For added peace of mind, there are controls near the battery pack that can fold and unfold the scooter if you ever forget your wireless remote. Most foldable travel scooters have straight-handled tillers, but the Remo Auto-Flex features a delta tiller making it easy to steer and ideal for users with limited dexterity. The tiller is height adjustable for ideal positioning of the scooter's controls, and the armrests are adjustable with padded tops for comfortable cruising.
Still need help deciding? Call one of our experts today at 800-786-9006
We will be more than happy to help you make this life changing decision!